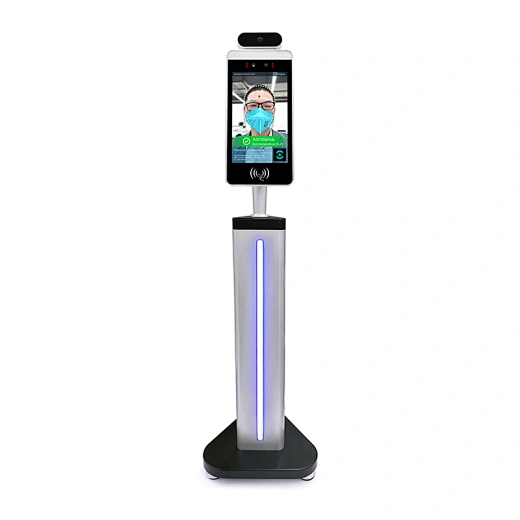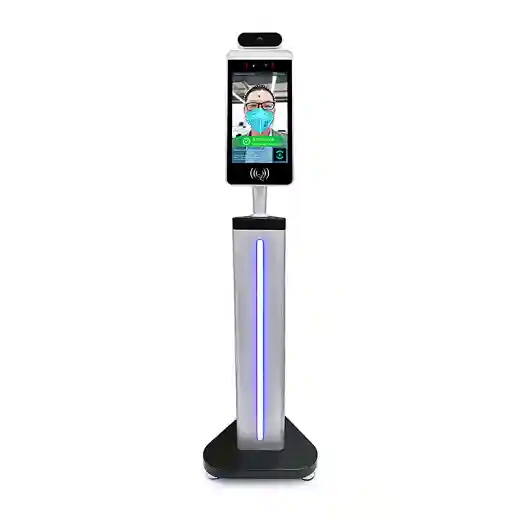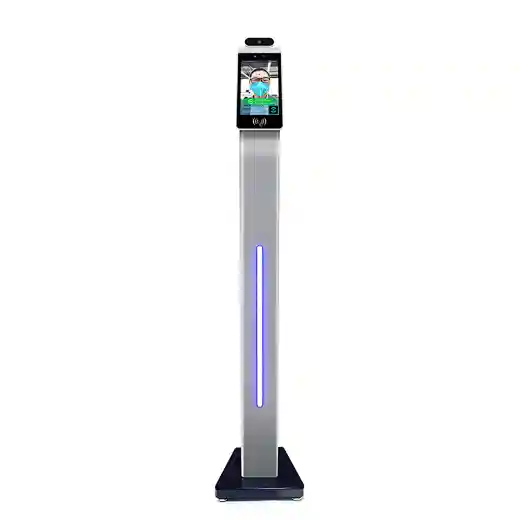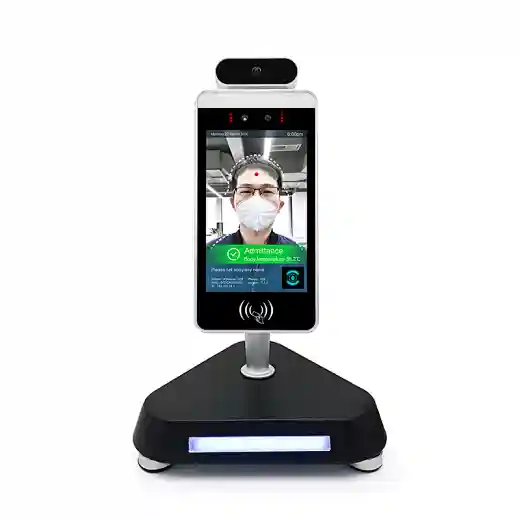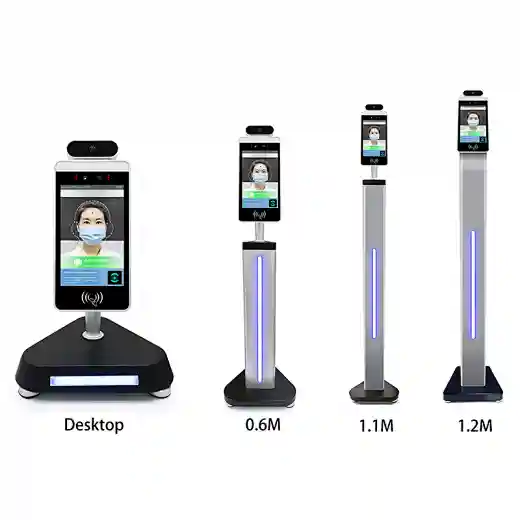 Smart Thermal Imaging Display Temperature Scanner Kiosk-DW1081-1
DW1081-1
Type:TFT
Application:Indoor
Warranty:1 YEAR
After-sales Service Provided:Online support
Place of Origin:CN;GUA
Brand Name:HBONY
Model Number:DW1081-1
Color:Black
Application:Public Place
Function:Image Temperature Kiosk
Display:LCD Digital Display
Measuring distance:50-150cm
Certificate:CE ROHS
Parameters
Camera

Resolution

Camera Type

binocular wide dynamic camera

Aperture

F2.4

Focusing distance

50-150cm

White Balance

Auto

Photo flood light

LED and infrared double flood light

Screen

Screen size

8.0"IPS LCD Screen

Resolution

800 × 1280

Touch

optional support

Processor

CPU

RK3288 quad core (optional rk3399 six core, msm8953 eight core)

Storage

EMMC 8G

Interface

Network module

Supports Ethernet, wireless (WiFi)

Audio

support 2.5W/4R

USB

1 USB OTG, 1 USB host standard A port

Serial communication

1 RS232 serial port

Relay output

1 door opening signal output

Wigan interface

1 Wigan 26 / 34 output,1 Wigan 26 / 34 input

Wired Network

1 RJ45 Ethernet socket

Upgrade button

supports the uboot upgrade

Function

Card reader

optional IC card reader/ID card

Face recognition

support detection and tracking of multiple people at the same time

Face Library

UP to 30,000

1:N face recognition

Support

1:1 face comparison

Support

Stranger detection

Support

Identify distance configuration

Support

UI interface configuration

Support

Upgrade remotely

Support

Interface

Interfaces include device management, personnel

/ photo management, record query, etc.

Support public cloud deployment, privatized

deployment, LAN use, stand-alone use

Body temperature detection

support

Temperature detection distance

1m (the best distance is 0.5m)

Temperature measurement accuracy

≤± 0.5 oC

Temperature measurement range

10oC ~ 42 oC

Visitors model

support for normal temperature of visitors

Temperature alarm

support
Main Features:
1. 8-inch IPS full-view LCD display.
2. Industrial-class appearance, waterproof and dustproof design which is stable and reliable.
3. Supports 30,000 face database. The 1: 1 comparison recognition rate is more than 99.7%, the 1:N comparison recognition rate is more than 96.7%~0.1% misrecognition rate, and the live detection
accuracy rate is 98.3%~1% misrejection rate. Face recognition pass speed is less than 1 second.
4. Supports accurate face recognition and comparison while wearing a mask.
5. Using industrial-grade binocular wide dynamic camera, night infrared and LED dual photo flood lamp.
6. Support processors with strong performance: Rockchip RK3288 quad-core processor, Rockchip RK3399 six-core processor and Qualcomm MSM8953 octa-core processor.
7. Supports human body temperature detection and temperature display. The best temperature detection distance is 0.5 meters. The longest distance at which body temperature can be measured is 1 meter. The measurement error is plus or minus 0.5 ℃.
8. It only takes a few seconds for detection, and supports automatic alarm for body temperature abnormality.
9. Attendance temperature measurement data is exported in real time.
10. Supports various peripheral expansions such as ID card reader, fingerprint reader, IC card reader, two-dimensional code reader, etc.
Care and Maintenance:
1. During the installation and use of the product, all electrical safety regulations must be strictly observed.
2. Please use the power adapter provided by the regular manufacturer.For specific requirements of the power adapter, see the product parameter table.
3. When installing on the gate, please make sure that the product is installed firmly.
4. If the product does not work properly, please contact the after-sales service personnel. Do not disassemble or modify the product in any way. (The company does not assume any responsibility for problems caused by unauthorized modification or repair.
5. Do not immerse the product in water. When the product is installed outdoors, try to use it with the rain cover provided by our company.
6. Please understand that you are responsible for properly configuring all passwords and other related product security settings, and keeping your user name and password properly.
7. If the equipment does not work properly, please do not disassemble it for repair, otherwise it will affect the equipment warranty.
8. Avoid extreme or extreme environments such as extreme high temperature (or low temperature), high humidity, vibration, radiation, and chemical corrosion during installation and use.